I heard a song on the radio this morning, and was so impressed by the guitar solo that starts just before the four minute mark (and is basically the track from then on) that I wanted to know who had played it. It's linked below, I'll wait while you listen to it.
That's John Walker on the video back in 1975 pretending to play the solo on a rather beautiful but unplugged Fender Stratocaster. He was promoting the Walker Brothers comeback album, which did nowhere near as well as the No Regrets single which was taken from it.
The guitarist actually playing the solo is Alan Parker, an English musician who has written or played a huge amount of music I'm sure you're familiar with, although his face is unfamiliar and he won't appear on any of these videos barring one grainy still.
After training at the Royal Academy of Music under Julian Bream in the mid Sixties, Parker became an in demand session guitarist on the London circuit. John Paul Jones of Led Zeppelin fame was musical director for Donovan's Hurdy Gurdy Man album sessions and brought Parker in to play electric rhythm and lead guitar on the title track, Hurdy Gurdy Man. It's often been said that the guitar is played by Jimmy Page – he did play acoustic guitar on some of the other tracks at the sessions but not this one.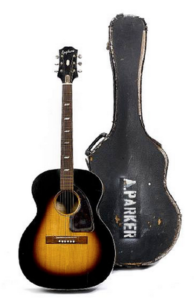 Around the same time as the Donovan sessions, Parker met Jimi Hendrix when they were both working at Olympic Studios in Barnes, west London. They hit it off and, a couple of years later, Jimi gifted him his 1951 Epiphone FT-79 acoustic guitar. This had been bought for $25 in 1967 with money earned from the Monterey Festival appearance and had been Jimi's main home guitar while in London, used for practice and composition.
Parker played the guitar on sessions and at some point sold it along with the hard case that he'd found for it (to this day, still stencilled with "A. Parker"). That original sale may have been The Jimi Hendrix Auction at Bonhams in 2001 – it was certainly sold there. It's been auctioned again a couple of times since then, still with the A Parker case, most recently in 2016 when it sold for £209,000.
Meanwhile, a group of session musicians got together in 1969, at his instigation according to Big Jim Sullivan, with a view to forming a band. Big Jim soon went off to play with Tom Jones for a few years leaving Alan Parker as the sole guitarist – the remaining musicians became Blue Mink. The bass player was Herbie Flowers, later a David Bowie stalwart and member of Sky, but Blue Mink's pop success was driven by the vocal talents of Madeline Bell and Roger Cook. Cook was also an accomplished songwriter, having writing credits on I'd Like To Teach The World To Sing and Something's Gotten Hold Of My Heart amongst many others. Anyway, here's a Blue Mink instrumental from their first album which shows off Alan Parker's chops.
All of Blue Mink carried on with their session work and other bands. They formed the nucleus of the musicians on Elton John's first album in 1970. Parker and Flowers formed a heavy blues band called Rumpelstiltskin, whose two albums are well worth checking out.
For strange reasons (it was the early 70s) Rumpelstiltskin adopted pseudonyms, so Alan Parker became Andrew Balmain. That's how Andrew Balmain came to be credited as guitarist on Ballade de Melody Nelson from Serge Gainsbourg's landmark 1971 album Histoire de Melody Nelson, the rhythm tracks for which were recorded in London in 1970 with Rumplestiltskin providing the core of the band.
The Herbie Flowers connection was probably responsible for Parker being brought in to play the electric guitar on Rebel Rebel, David Bowie's farewell to glam rock. Bowie wrote the riff on an acoustic but Parker dirtied it up and added the three notes at the end of each riff (Ab, D, E) that allow it to loop so hypnotically for almost all the song. Parker was also possibly being used as a gentle two finger salute in the direction of the recently departed Mick Ronson, showing that Ronson was by no means the only guitarist with a Les Paul and an overdriven amp. Alan Parker also played the Shaft-style guitar on 1984 which appeared together with Rebel Rebel on Bowie's 1974 album Diamond Dogs.
Parker continued to play on both well-known and obscure tracks. Many of them went uncredited – such is the life of a session guitarist. But some he did get credit for like this track from the first Kate Bush album The Kick Inside, which is one of two tracks on that album (the other being The Man With The Child In His Eyes) which survived from the original 1975 sessions produced by David Gilmour.
But he was also establishing himself as a composer and performer of library music. The distinguishing feature of library music is that the composer assigns all copyright to the publisher, so the publisher can easily license it to film and TV companies for use as soundtrack and incidental music. Library music was also released as albums by labels such as KPM, DeWolfe and Themes. It's very difficult to trace what use the tracks were put to, However this one is known to have been used on Sesame Street back in the day.
Session contacts led to library music contacts and those in turn led to theme music and soundtrack contacts. By 1977, Parker was scoring the high profile television dramatisation of the "Philby, Burgess and Maclean" spy scandal.
He pretty much seems to have not looked back since.