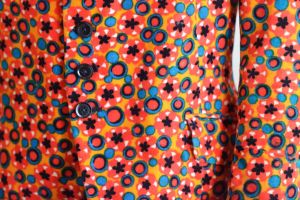 Inspired by his London flat now being their administrative offices, the Handel House Museum are holding a Hendrix In Britain exhibition to mark the 40th anniversary of his death. It's only a small exhibition but they've gathered some contemporary programmes, posters and photos to illustrate his life and work in Britain, plus a couple of interesting manuscripts.
The first is a battered piece of Hyde Park Towers Hotel headed paper with partial lyrics for Love Or Confusion on the front and a self-penned caricature of Hendrix surrounded by various cartoons poking fun at himself and other pop acts on the back. The second is handwritten instructions – on Londonderry Hotel headed paper this time – to tell the model Kirsten Nefer how to get to the Isle of Wight Festival. Hopefully the pass was waiting at the main stage gate as promised.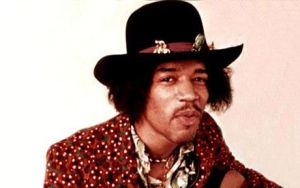 There are two star exhibits. One is the custom left handed Gibson Flying V known as Flying Angel which Jimi played at the Isle Of Wight Festival in 1970. While this is a lovely guitar, it usually lives in the Hard Rock Cafe Vault across Mayfair where you can see it for free so it isn't that much of an attraction.
Much better are the Westerner hat and Dandie Fashions jacket that Jimi wore for a shoot at Bruce Fleming's studio in 1967 where he was also filmed performing an acoustic rendition of Hear My Train A Comin' (and saying one of his most quotable lines).
[Note: This seems to be the best copy on Youtube at the moment but it still isn't very good quality. The 2010 film Jimi Hendrix: Voodoo Child uses it in the original quality and the blues really zing. The film has lots of other fantastic footage too and, as of February 2018, is available on Netflix.]
The Westerner hat is a fine thing, with alternating cast rodeo riders and individual turquoise and silver pieces on the band. But the Dandie Fashions velvet jacket is the real standout. No picture could do justice to the vibrant colours, especially the deep blues which hardly even seem to be captured for some reason. The jacket syle is conservative by 1967 standards – single breasted with five buttons and a noticeable flare to the end of the sleeves – but the fabric doesn't really need much embellishment.
Dandie Fashions was founded in October 1966 by Alan Holston and Tara Browne, the Guinness heir who famously "blew his mind out in a car" before the year was out. Although the shop had been in part an outlet for his tailoring business Foster & Tara, Browne's death didn't stop Dandie Fashions becoming for a while one of the elite scene outfitters in London, Browne's share of the business having been sold to John Crittle, an Australian born tailor and also future father of ballerina Darcey Bussell.
As well as at least two jackets for Hendrix, they produced custom jackets for Paul McCartney, clothes for various Rolling Stones and the original Major Tom silver suit worn by David Bowie during Space Oddity in his short 1969 film Love You Till Tuesday. In 1968, Dandie Fashions became Apple Tailoring and the relaunch party was John and Yoko's first public appearance together. As with many Apple businesses, it wasn't a success. Freddie Hornik, one of the other key members of the Dandie team, went on to breathe new life into a fading Granny Takes A Trip and made it a big success on the burgeoning glam scene and on both coasts of the US.
All of which is a long way of saying, get to the Hendrix In Britain exhibition before November 7th to see an iconic piece of London counterculture tailoring before it heads back to Seattle.